Resources
MuniCREDIT Insights: Northwest Senior Housing Corp.
Northwest Senior Housing Corporation, known as Edgemere filed for Chapter 11 protection last week. MuniCREDIT Online tracked key financial ratios anticipating this turn of events.
Did you see this coming…?
Northwest Senior Housing Corporation, known as Edgemere, filed for Chapter 11 protection last week with nearly $112 million in debt. The company filed for bankruptcy in the midst of a dispute with its landlord, Intercity Investment Properties, over its 16.25-acre campus and the future of its 55-year lease. >>>>Full article
If you were a holder of Edgemere tax-exempt bonds, you would've seen the writing on the wall as far back as four years ago by checking the project's key financial ratios in DPC DATA's MuniCREDIT Online platform.
The project's Operating Margin Ratio has been negative and trending lower since FY 2018, reaching a negative 82 percent in FY 2020.
Liquidity, as expressed through Days Cash On Hand, has deteriorated steadily from 412 days in 2018 to just 231 days in 2020. The Cushion Ratio, another indicator of liquidity, completely collapsed from 17.22% to just 0.2%.
Most critically for debtors, the standard Debt Service Coverage ratio has been below 1.00x at least since 2018, meaning that the project has been in violation of its debt covenants for a while.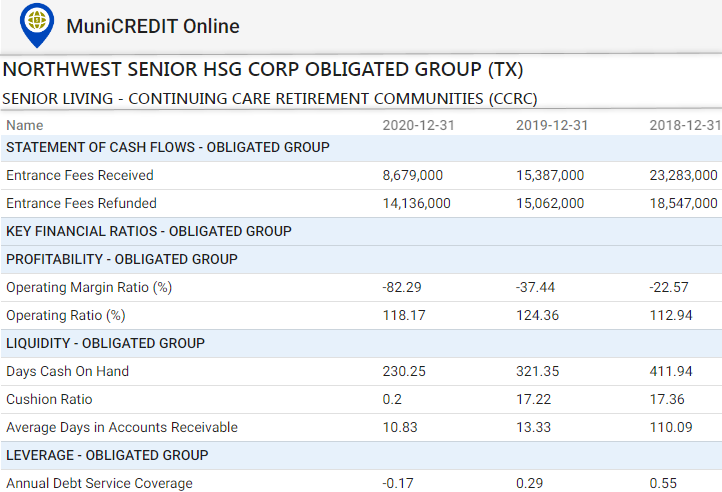 And there's more…
On the flip side, even if you were not a holder of Edgemere bonds, you could have targeted this project as a potential investment opportunity using the same analytical indicators provided in our web-based application.
DPC DATA currently covers 494 active issuers/obligors in the Senior Living industry, from Continuing Care Retirement Communities ("CCRC") to pure Rental Senior Housing projects.
For more details on how to manage your credit risk and identify investment opportunities in the senior living industry, please contact us at sales@dpcdata.com.
Learn more about MuniCREDIT Online.
Disclaimer: This report is for informational purposes only and is not intended as an offer or solicitation with respect to the purchase and sale of any security. Although the information contained in this report has been obtained from sources we deem reliable, we do not guarantee its accuracy, and such information may be incomplete or condensed. Investors should obtain and read the official statements related to the securities discussed. All opinions are only valid as of the report date and are subject to change without notice.