Resources
[WEBINAR] Municipal disclosure in the time of COVID-19
July 9, 2pm ET, Bond Buyer web seminar features DPC DATA's own Ken Hoffman (speaker) and Triet Nguyen (moderator).
A Bond Buyer exclusive! Full transparency and timely disclosure practices have historically been the Achilles Heel of the municipal bond market relative to other major fixed-income asset classes. While municipal disclosure practices have clearly improved in recent years as a result of ongoing pressure from regulators as well as from bond investors, the recent improving trend is being threatened by the current pandemic and the resulting healthcare and fiscal crises facing state and local governments. Current issues include:
What and how much should municipal issuers disclose to their creditors about the potential impact of Covid-19?
What response should the industry expect to see from market regulators?
What types of Covid-19 related disclosure have we seen to date from municipal issuers?
What impact will the current crisis have on future disclosure efforts?
These and other critical questions will be discussed by Bond Buyer's panel of disclosure experts, representing all major market stakeholders: the issuers, the sell side, the buy side and the vendor community. If your business is impacted by the current and future quality of municipal disclosure efforts, please join us for this informative and thought-provoking webinar.
This Bond Buyer Web Seminar is sponsored by DPC Data Corp., the market leader in disclosure and compliance solutions.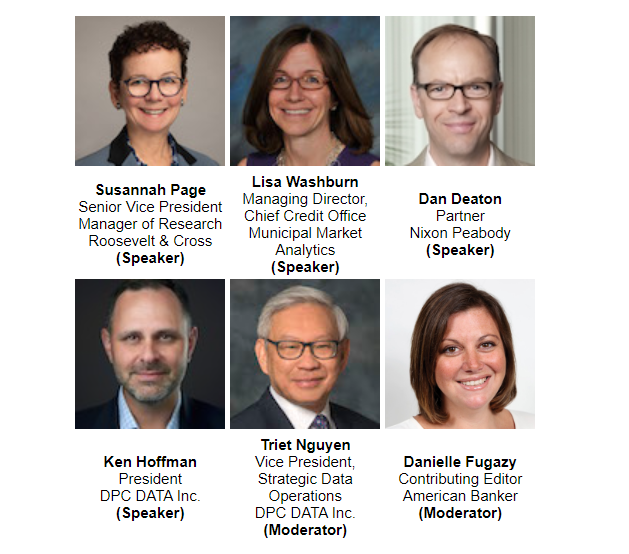 Get the latest advances in your inbox!
Sign up and get the latest news and insights about DPC DATA's municipal bond credit, disclosure, and compliance data solutions delivered right to your inbox.