Learn more about
Products
Best Practice Solutions for the Municipal Security Lifecycle
MuniCREDIT Solutions
DPC DATA's MuniCREDIT Solutions Reinvent Municipal Market Data
Struggling to find and leverage muni credit data?
From Official Statements to Operating Filings and Material Event notifications, the municipal bond market issues mountains of Obligor data each day. Buried in this data is information that could be valuable – if your credit analyst team could access it.
Analysts don't have it easy. Existing muni data providers often have restrictions on data use or offer incomplete or expensive data feeds. Plus, their so-called solutions can lack coverage for bank-qualified or smaller issuers and high-yield sectors (e.g., senior living). As a result, your analysts are likely spending too much time and energy manually searching out, compiling, and standardizing data into an analyzable format.
With your team buried in data, you could be missing out on the strategic Obligor insights that can better inform your firm's purchase decisions and portfolio holdings as well as impact client service levels.
DPC DATA's MuniCREDIT Solutions give your firm the competitive edge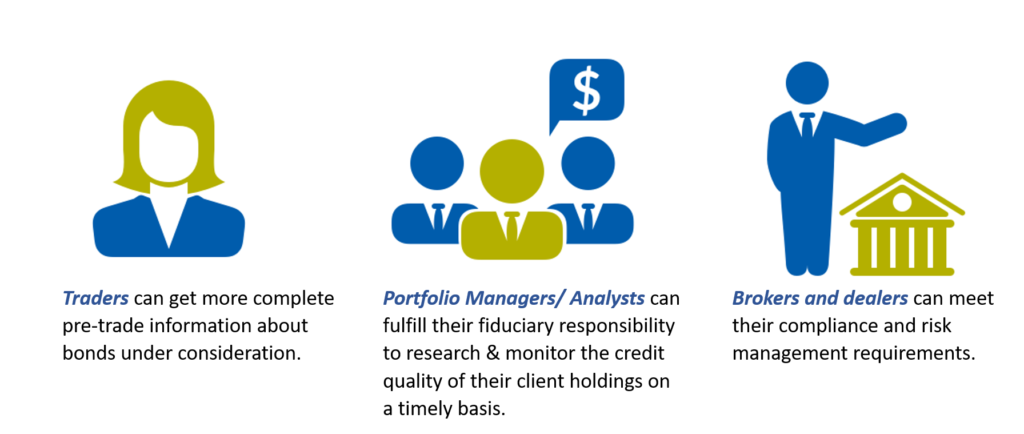 With over 25 years of municipal data expertise, we understand the strategic value of having comprehensive, clean, and standardized municipal financial data available at an affordable cost.
Underlying our municipal financial database is our proprietary Obligor and Sector Mapping System which allows market participants to identify the actual credit or Direct Obligor in every transaction. Users are also able to group over 30,000 distinct Obligors in the municipal market into over 100 specific sector/subsectors, each with its own risk characteristics.
Our data collection process effectively converts financial data into a machine-readable format. This can be used for a variety of research and trading applications, including Artificial Intelligence models.
We developed our database in partnership with experienced credit analysts and other power users. As a result, we know it is highly versatile, easy to use and easily integrated into your own research and trading workflow.
The result? Scrubbed data and actionable information
Our MuniCREDIT Solutions suit a variety of credit-related needs, for example:
Complete CUSIP-Obligor-Sector mapping for all outstanding U.S. municipal securities based on our proprietary mapping methodology
Financial and Operating Data for over 25,000 distinct Obligors
Custom Financial Data Reports
Why DPC DATA?
DPC DATA believes in helping our clients in the fixed income industry make wiser decisions and avoid penalties by providing scrubbed, accurate and actionable data via solutions that offer a balance of quality, reliability, and price.
The MuniCREDIT Solutions portfolio is built on:
Over 25 years of innovative, market-driven data solutions
An analyst team with over 250 years of combined muni data experience
Solutions developed in partnership with experienced credit analysts and other power users
Extensive distribution platform already in place
Independent, platform-agnostic data offerings
To learn more about DPC DATA's MuniCREDIT solutions, contact your DPC DATA representative or email Sales@DPCDATA.com.
Get the latest advances in your inbox!
Sign up and get the latest news and insights about DPC DATA's municipal bond credit, disclosure, and compliance data solutions delivered right to your inbox.